Case Study: Jack Thompson, 650 Personal Training
Published on
Published in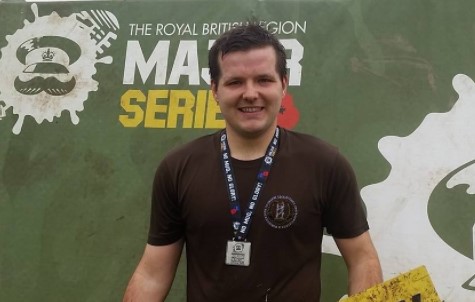 650 Personal Training was launched in October 2021 when Jack Thompson started taking on his own fitness clients after gaining years of experience in the industry. He is now a fully qualified Personal Trainer and Nutritional Advisor and offers military fitness training, personal and group training, boot camps and virtual sessions, gym programme design, nutrition and weight management as well as pre- and post-natal training.
But back in 2019, Jack was struggling with knowing how to fulfil his teenage dream of setting up his own business as a physical training instructor (PTI).
The 16 year old Jack had dreamt of joining the Army and becoming an Army PTI. When he was unsuccessful in becoming a regular Army Officer he went on to do a degree in Sport and Exercise Science and became an Army Reservist. He then searched for suitable personal training qualifications but found it difficult to achieve his final Level 3 qualification due to the pressures of working 40 hours a week as a gym instructor whilst being an Army Reservist.
Jack commented "However, finally I became a fully qualified Personal Trainer in 2019. Then I completed a business course to help me set up on my own but I came out of the course confused and worried. For example, they said I had to have a business bank account. Thank you Rebel for later telling me otherwise!
"By January 2020 I had become an Army Reserve PTI, a childhood goal smashed! But I was nowhere closer to setting up my business, even with an accountant father who had helped my brother set up his own business.
"As well as wanting to become a self-employed personal trainer, I had also come up with a new product that could solve a flaw in the army reserves physical training system which was affecting Army Reserve PTI's ability to deliver the required lessons. I was excited by this product as it could be sold not only B2B but also B2C!
At this point, Jack contacted the Coventry and Warwickshire Growth Hub who provided him with free 1-2-1 tutoring from a business expert. They told him of the Rebel Business School, a one-week intensive course for new businesses that was being funded by Venture House, the Stratford business centre owned by Stratford-on-Avon District Council.
The course was to be run online in February 2021 so, with lockdown still in full swing, Jack signed up and booked time off from work. "I would say that was one of the best uses of annual leave that I have ever made."
"When I started the Rebel Business School, I had a business name for my personal training company and a name for the product but that was it. The whole 5-day course was so useful. I had thought I was going to need to pay someone to make a website – nope, not necessary. I made my own site for free during the course! And when was I going to find time to make a business social media account? Oh right, on day 4 of the course! And I can now plan my social media content for the next few months ahead which saves me loads of time.
Jack was also delighted to find that his professional body CIMSPA accepted the Rebel Business School as a way of earning CPD credits towards his continuous professional development.
He went on to say: "And during the course, I also made some really valuable contacts – including Katie Wilber from Cotswold Connected who created my logo! And in case you're wondering, the name "650 Personal Training" is a nod on the fact there are 650 skeletal muscles that are in the body.
"A key thing I took away from the Rebel Business School was to concentrate on one thing at a time, so I have decided to put the fitness product on hold at the moment while doing manageable steps towards this when I have free time.
"Following the course, I experimented with various ways of juggling a paid job with building my own business as I needed an income whilst developing my own thing. I got involved with an online PT business and also tried freelancing but I realised that I needed a different job to allow me to focus on my business.
"So in October 2021 I started work at a new gym near Warwick and within 6 weeks I had my first private client. I'm now in discussions with my employer about going part-time so I can gain more clients. I also have permission to gain experience training some clients for free at the gym I am a member of in Bidford and the owner has offered me a part-time contract as a CrossFit coach once I have completed the relevant training.
"I have two boot camps and a nutritional advice workshop planned too. My social media account is starting to drum up interest and I made my first gift voucher sale in 2022!
"I've made mistakes, but I've learned from them. I've experimented and some things are working, some are not. Now that I have actually started my personal training business, my aim is to be part-time or fully self-employed by the end of the year (2022). The Rebel Business School has made setting up a business and everything else that comes with being your own boss so much easier and clearer – thank you Rebel and also Stratford-on-Avon District Council for laying on the course in the first place."
The Rebel Business School forms part of the ongoing business support programme that is available to businesses and entrepreneurs across the Stratford-on-Avon district and which is delivered through Venture House Business Centre, owned and run by Stratford-on-Avon District Council. Business Enterprise Coordinator Anne Solomon said "We are delighted that people like Jack choose to take advantage of the Rebel Business School and he has used it to help achieve his dream of setting up his own business. We wish Jack every success and I urge more businesses and individuals to get in touch to find out what Venture House can do to support them."
Venture House has been funded by the Coventry and Warwickshire Local Enterprise Partnership (CWLEP) through an award of £450,000 as part of the Growth Deal Initiative. Venture House provides 2,500 sqft of business space over two floors offering self-contained offices, hot desking and meeting facilities, superfast broadband and free business support through the Coventry and Warwickshire LEP Growth Hub.
Find Jack Thompson and 650 Personal Training at: https://650personaltraining.weebly.com/
Find Rebel Business School at: https://therebelschool.com/
Find Venture House Business Centre at: https://www.venturehousestratford.co.uk/
Find the CWLEP Growth Hub at: https://www.cwgrowthhub.co.uk/