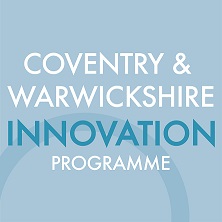 This half-day workshop will introduce you to practical goal-setting that truly helps you to make progress. Using visual tools and creative thinking you will leave with a plan to move your business forward.
We will also look at ways to develop your creative thinking for problem-solving, facing challenges and to make positive changes in your life.
Booking information will be available soon.
Spaces are limited to one per business. However, if you would like to bring a colleague please call us on 01789 207500 and we will notify you nearer the time should there be spare spaces available. Your business should ideally be located in the Coventry & Warwickshire area, however if you fall outside this area please contact us as we will do our best to accommodate you if space allows.
Free parking is available on a first-come-first-served basis. Please see 
www.venturehousestratford.co.uk/contact/
 for directions and SatNav info.

This workshop is funded by the Coventry & Warwickshire Innovation Programme which is part funded by the European Regional Development Fund and is being delivered by Coventry City Council, Warwickshire County Council and Coventry University Enterprises Ltd in conjunction with Stratford-on-Avon District Council.