Refer a New Hotdesk Friend
Published on
Published in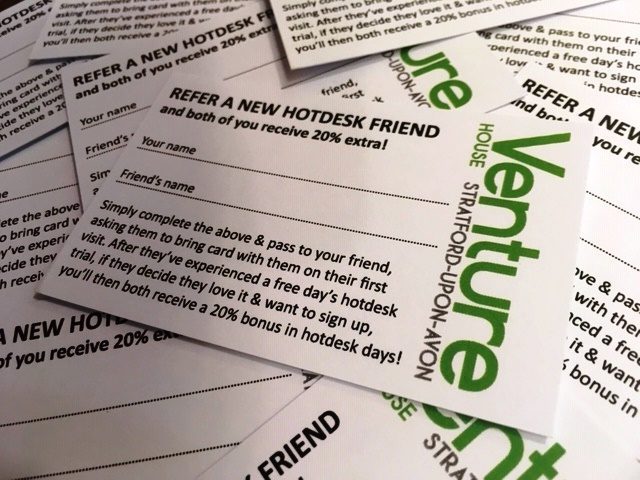 Venture House is offering an extra 20% on your next purchase of hotdesk days when you introduce a new hotdesk friend.
After you have referred them and your friend has experienced a free day's hotdesk trial, if they decide they love it & want to sign up, you'll both receive a 20% bonus in hotdesk days!
When your friend signs up for a minimum of 5 days hotdesking, you will receive an additional 20% of bonus days on top of your next purchase. That's one extra day when you purchase a batch of 5 days or an extra 4 days if you go for a single or multiple monthly subscription.
Even better, your friend will also receive an additional 20% of bonus days on their first purchase of 5 days or monthly subscription (as above).
And if you are not a regular hotdesker at Venture House but you refer a friend, your friend can still benefit from this offer.
WHAT YOU NEED TO DO…
Either just send us an email with the name of the friend you are referring to us before their first visit or, alternatively, pick up a Referral Card from Venture House, complete and pass it to your friend for them to bring when they first visit.  We'll then keep you informed by email when your friend signs up and of your own hotdesk entitlement.
Terms & Conditions
– This referral scheme only applied if the friend produces their referral card on their very first visitor or if an email has been received from the referrer before the friend's first visit.
– The friend's purchase and user's next purchase must be for a minimum of 5 days.
– Additional bonus days apply to the week days only.
– The referrer must redeem their 20% bonus within 12 months of the friend's first purchase.
– The Venture House standard hotdesking terms and conditions also apply.