Why video should be a big part of your social media strategy in 2022
Published on
Published in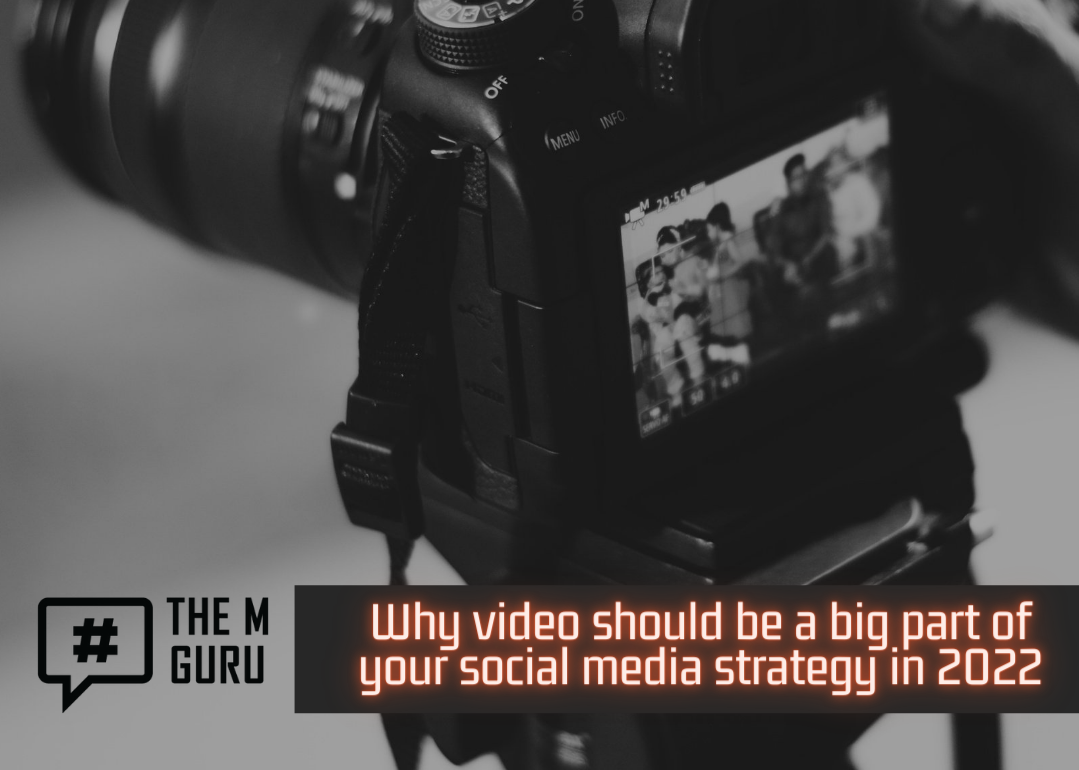 "Video is driving an immense amount of growth online for all major platforms."
– Adam Mosseri, Instagram CEO.
Many of the social media platforms are moving towards video content and heavily pushing it out to its users. In the quote above, this is just one example of a strategy shift towards the medium of video. We will discuss more below.
SO WHY SHOULD VIDEO BE A PART OF YOUR SOCIAL MEDIA STRATEGY?
We love moving images:
Ever since the movies, films, talkies, flicks – whatever you want to call them – were invented, we are fixated by moving images and seeing real-life being captured.
Attention grabbing:
The moving images grab our attention like no other medium, whether they are on television, billboards, or social media. Most video content has the ability to 'stop the scroll' and make us linger for a few extra seconds.
Shows personality:
We see the personality in front of the camera. Videos, especially of people, help us to form bonds with the subject, as we learn more about them.
Your customers are voyeurs:
It is human nature to be a voyeur. We love seeing what others are up to; watching their facial expressions and body language; hearing their voices. We can learn so much about someone, in a much quicker timeframe than other mediums, by watching videos.
We want to be educated:
Most people learn by listening and repeating. We are brought up on listening to teachers and learning from them, and video learning is just an extension of that.
We want to be entertained:
The ultimate goal of videos is to entertain us. When we are entertained, we spend more time watching – in turn, if we spend more time watching, we are more likely to retain information, as well as repeat it at a later stage.
Powerful sales tool:
Video is a very powerful sales tool as it can inform, education and entertain in equal measure, getting the desired message across in a much shorter timeframe than other mediums.
Easy to repurpose:
Video content is very easy to repurpose across platforms, making it a medium to disseminate efficiently.
Videos stay around for longer:
On most social media platforms, video content exists for a very long time, and some of the platforms specifically have separate tabs to make sure video is highlighted in prominent areas.
The New Normal:
The global pandemic has meant that we are spending less time face to face with people. What this has meant is that it is harder to create relationships with those we don't know. Video content has helped people to become known, liked, and trusted, as we subconsciously focus on the 'realness' of the subject.
WHERE CAN WE USE VIDEOS ON SOCIAL MEDIA?
Long videos:
• Posting on the Instagram Grid
• Uploading to Facebook as a post
• Uploading to Twitter
• Posting to YouTube (and, if you create a lot of videos, start your own channel)
• Posting on LinkedIn
Live videos:
You can go live on most social media platforms including Facebook, Instagram, Twitter and LinkedIn, and they work really well for reach and engagement. See below for advice on planning.
Short videos:
• Instagram Reels – up to 60 seconds
• Instagram Stories – up to 15 seconds each, and only available to the audience for 24 hours
• TikTok – the most downloaded app during the pandemic
• YouTube Shorts – their answer to TikTok / Reels
• Pinterest Video Pins
• LinkedIn Cover Story – the 30-second video behind your profile photo
• Snapchat
WHERE TO START?
My advice would be to start creating short-form videos on social media, such as Instagram Reels or posting on Facebook. Remember, you don't have to post videos of your face – you can show off your office, your work, behind-the-scenes content, etc – the main thing is to start being consistent so you can get used to the nuances of each platform, and work out what works best.
The next step would be to start doing live videos. Once again, you don't need to feature in them – they could consist of any visual content as listed above. Going live has the benefit of being 'in the moment' and your followers will be notified, which in turn increases engagement.
THE PLAN
Get the right equipment:
If you will be creating regular videos, have the right lighting, microphones and camera. I won't add too much detail here – most decent photographers would have blogs on their website listing the items they use, such as ring lights and lapel mics. However, if you don't have these things, don't let it hold you back – you can just start by creating videos on your mobile phone – often, the content outweighs the production (especially on social media).
Plan before recording:
Make sure you know what you are going to say in your video, but also switch off notifications – nothing worse that being called in the middle of a perfect take!
Really think about the message:
What do you want to say? Who are you saying it to? What do they need? Think about the message that you want to share, and make sure you practice this in advance as well as keeping some notes (whether in hand-held cards or on post-it notes stuck to your screen).
Try to grab attention:
Don't waffle. Set the tone early, and lead with exactly what you want to say, or start by asking the question that your audience are asking. Us humans have short attention spans, so make sure you capture the audience's attention in the first few seconds.
Think about the tone:
Don't try to be someone you're not. Just be yourself and it will come across much more naturally, and in the tone that people recognise.
Focus on your audience:
What do your audience want to hear? What do they need? Think about why they are watching the video and what they want to listen to. Often, why they are listening and what you are saying can be two disparate things.
Desired outcome / effect:
There has to be a call to action, and you have to think about what action you want the audience to take, whether it is to email you, book something, or visit your website. Ultimately, they are watching the video because they are looking for an answer, and you have to make sure they get it (or at least know where to get it).
THE TOOLS
I use a number of video tools in my work, for both me and my clients. I have listed the main ones below but, of course, this is not an exhaustive list – just what I have found to work really well.
Streamyard:
This is a great tool from which you can go live on multiple platforms, record videos, and interview others – the paid version also has a range of features such as adding your own branding. Note: if you have LinkedIn Live, you can't go live without using a third-party tool like this one.
InShot / iMovie:
These are great apps for editing videos, such as splicing them together, recolouring them, adding text and overlays, and much more. If you are serious about video, start having a play with these apps.
Clips / Rev.com / Kapwing:
I always hear the statistic that 80% of videos are viewed with the sound down. Rev.com and Kapwing help with adding subtitles to your videos (all the instructions are on their websites). Clips is an iOS video app in which it transcribes your videos as you record them, and adds the text as subtitles.
Bonjoro:
This is a great tool for delivering personalised video messages by email or DMs. It almost acts like a CRM designed to increase engagement amongst your audience.
Loom:
I use Loom a lot to record 'walk-through' videos, particularly where I need to talk to clients and walk them through particular procedures – you get to add your voice over a video to provide easy demonstrations (for example).
BigVu teleprompter:
I spend ages making notes about what I need to talk about in videos; and then reading them while trying to look at the camera is even harder. An on-screen teleprompter is the perfect thing to alleviate the hassle as well as cut down on the number of takes you need.
Canva video creator:
Canva is my favourite image creation software, and they recently added a video editor too. There's no substitute for a professional video, but Canva is pretty good!
FOCUS ON VIDEO CONTENT IN 2022
Whichever channels you use to promote your business, add video to your content plan for 2022. It's an important part of the marketing mix and is a quick and efficient way to disseminate information as well as tell the world about who you are. Video is an important part of building your brand image, which will lead the audience to know you, like you, and ultimately trust you.
ABOUT ME
This blog was written by me, Gus Bhandal – I am a marketer with over 25 years of experience, and founder of The M Guru – a digital marketing agency based in Coventry supporting SME business owners to raise their profile and maximise the benefits of using social media commercially.
My current clients include accountants, HR professionals, automotive suppliers, educational institutes, gardeners, commercial cleaners, web developers, and photographers.
I focus on supporting service-based businesses with either training (so you can learn how to do it yourself) or management (so I can take it all off your hands).
If you would like to know more, simply Google The M Guru and get in touch.